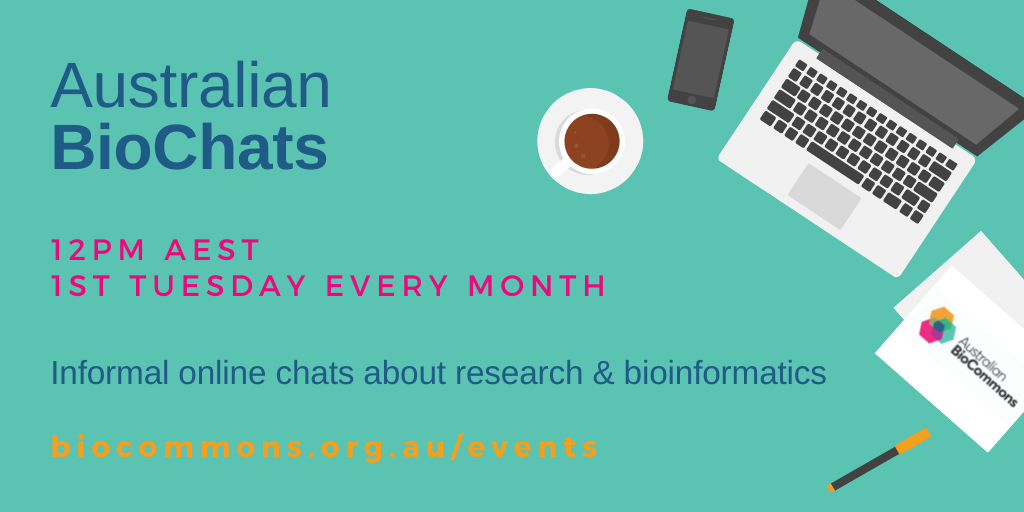 Data Driven Reseach for Everyone
Galaxy is an open, web-based platform for accessible, reproducible, and transparent computational biological research.
Accessible: Users can easily run tools without writing code or using the CLI; all via a user-friendly web interface.
Reproducible: Galaxy captures all the metadata from an analysis, making it completely reproducible.
Transparent: Users share and publish analyses via interactive pages that can enhance analyses with user annotations.
Scalable: Galaxy can run on anything, from a laptop, to large clusters, to the cloud
UseGalaxy.org.au: The Australian Galaxy instance
Thousands of documented and maintained tools
Free to use
600 GB for Australian based users (100GB for others)
On demand training capacity
And even more!

Training Materials
The Galaxy Community maintains a wide variety of training materials at https://training.galaxyproject.org
Topics include: variant analysis, transcriptomics, metagenomics, epigenetics, and many more!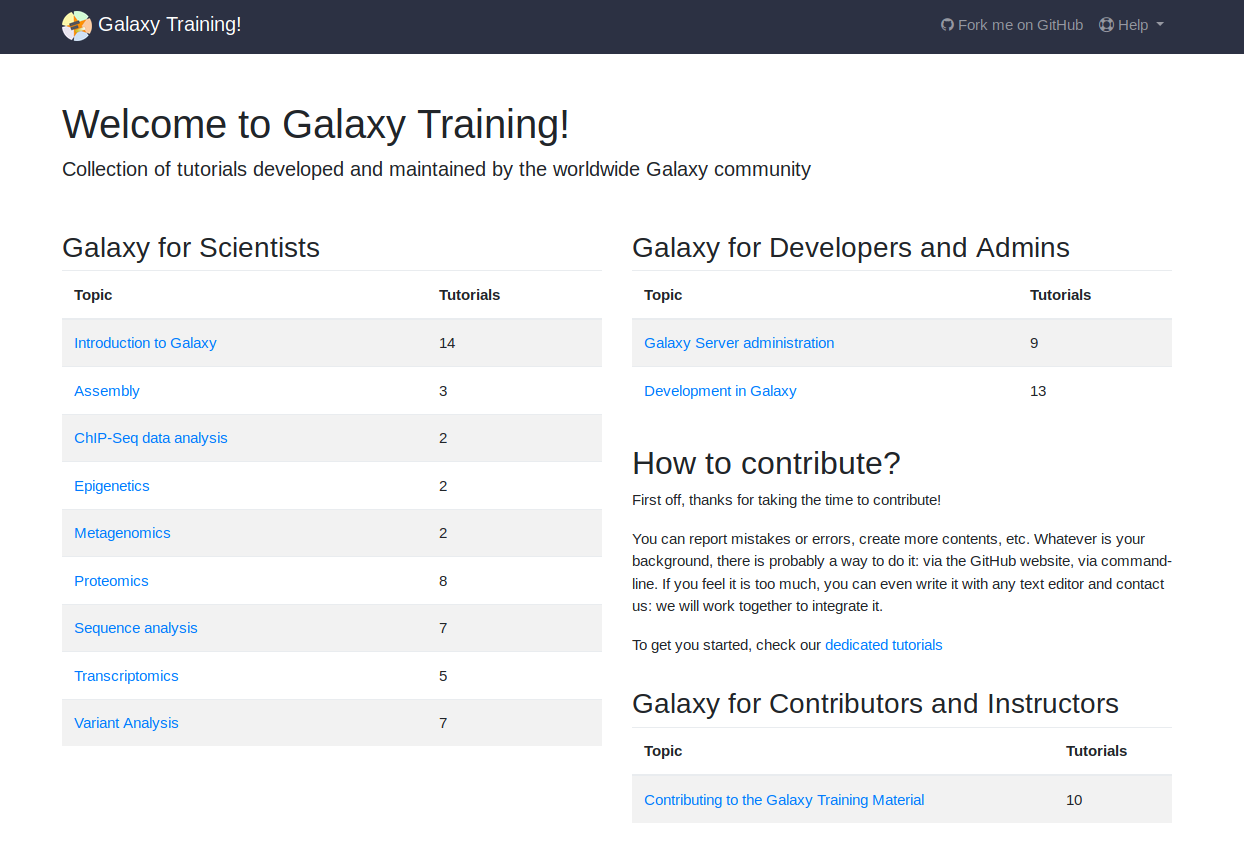 Acknowledgements
We are aiming to maintain high competency and provide high quality data analysis services to all our Galaxy users.
Therefore we request that you acknowledge this service by including the members of the Australian Galaxy Team as co-authors if they have made a significant intellectual and/or organizational contribution to the work described (conceptualization, design, data analysis, data interpretation and/or input into drafting, revising or writing any portion of the manuscript).
If you use Galaxy Australia in your research, please cite the GVL paper:
Vahid Jalili, Enis Afgan, Qiang Gu, Dave Clements, Daniel Blankenberg, Jeremy Goecks, James Taylor, Anton Nekrutenko, The Galaxy platform for accessible, reproducible and collaborative biomedical analyses: 2020 update, Nucleic Acids Research, Volume 48, Issue W1, 02 July 2020, Pages W395–W402, https://doi.org/10.1093/nar/gkaa434
Additional funding of projects and/or provision of material expenses are welcome as well, to help support our growing Galaxy community in Australia.
Downtime Notifications
We want you to feel that usegalaxy.org.au is a reliable service, so we are promising to give you advanced warning (when possible) about upcoming downtimes or any events that might degrade the availability.
This is a best effort, we will try and give as much warning as we possibly can
But we cannot make any promise regarding downtime notices as some will be out of our control
The numbers we provide here are rough estimates
For any planned downtime events:
| Downtime | Advanced Notice |
| --- | --- |
| <5 minutes | possibly without notice |
| 1 hour | 1 day |
| 1 day | 1 week |
| 1 week | 1 month |
Service Administration
Galaxy Australia is administered by a team of academics from the Universities of Queensland and Melbourne. We work very closely with our colleagues from Galaxy Europe and the U.S. Galaxy Team. Galaxy Australia is a part of the usegalaxy.* ecosystem of shared resources and collaborations.

We make every effort to provide high uptime.
Sometimes we are able to achieve this, sometimes due to factors outside our control, our service is temporarily inaccessible.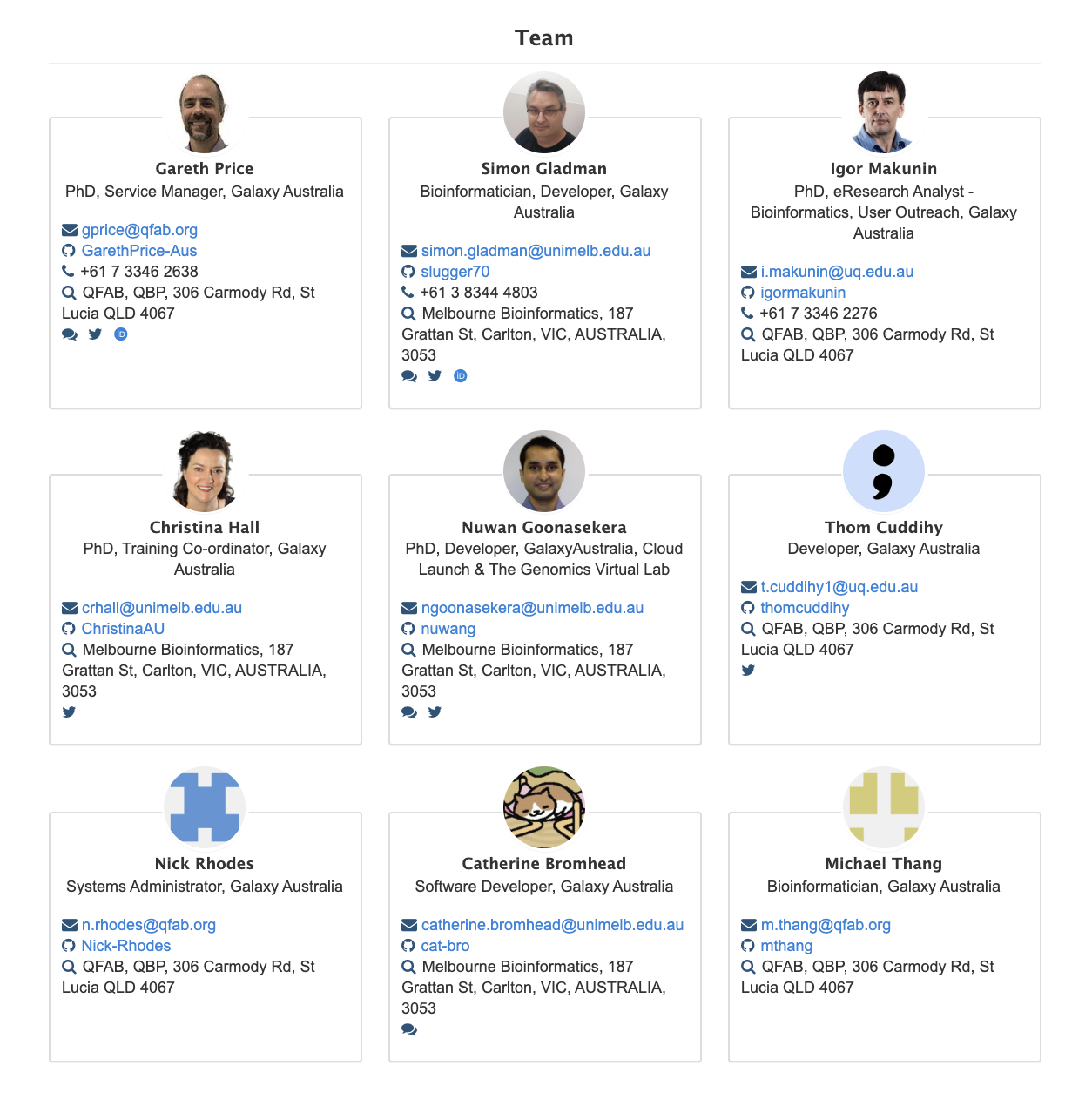 Registered Users
User data on UseGalaxy.org.au (i.e. datasets, histories) will be available for a minimum of 1 year (52 weeks) as long as they are not deleted by the user. Once marked as deleted the datasets will be permanently removed within 5 days. If the user "purges" the dataset in the Galaxy, it will be removed immediately, permanently.
Registered users are allocated a 100GB disk quota to begin with. Registered users with an Australian research institute are allocated 600GB.
An extended quota can be requested for a limited time period in special cases.
Unregistered Users
Processed data will only be accessible during one browser session, using a cookie to identify your data. This cookie is not used for any other purposes (e.g. tracking or analytics.)
If UseGalaxy.org.au service is not accessed for 5 days, those datasets will be permanently deleted.
Full Data Policy
Our full data policy can be found here.
Instructions for Downloading and deletion of data from Galaxy Australia can be found here: https://galaxy-au-training.github.io/tutorials/modules/galaxy-data/